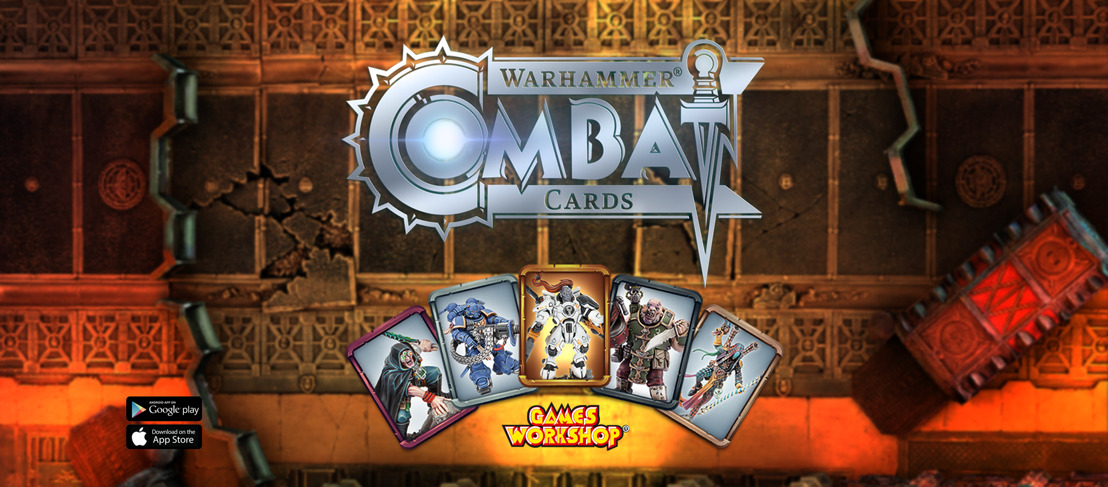 OUT NOW: Warhammer Combat Cards launches on the App Store and Google Play
Every Warhammer 40,000 faction is playable in Well Played Games and Flaregames' Games Workshop-licensed card battler
Monday, August 12th, 2019 — Warhammer Combat Cards, the first digital card game to draw on the entire breadth of the Warhammer 40,000 universe and its miniatures, launches today on the App Store and Google Play globally.
Developed by Well Played Games and officially licensed by Games Workshop, Warhammer Combat Cards is based on the classic Warhammer game Citadel Combat Cards. The physical card game was first released in the late 1980s, with later versions coming in the 1990s and 2017, but Warhammer Combat Cards boasts an ever-growing roster of cards and a scope beyond what's possible for a physical release.
In Warhammer Combat Cards, each card features a beautifully 'Eavy Metal-painted miniature that directly corresponds to Games Workshop's physical product line. New cards will be added to the game regularly, reflecting the latest Warhammer 40,000 miniatures released by Games Workshop.
As a live and constantly evolving title, this global launch is just the first of many exciting milestones for Warhammer Combat Cards. Well Played Games is collaborating closely with Games Workshop to deliver a fantastic, coordinated roadmap of content allowing players to dive ever deeper into the Warhammer 40,000 universe.
Every Warhammer 40,000 faction is represented in-game, and it's in the interplay between these factions that much of the strategy lies. Players will tactically combine Warlords with allied Bodyguards to build an all-powerful deck.
There are also challenges to show tactical versatility in the form of regular, time-limited campaigns based around seismic developments in Warhammer 40,000's unfolding lore. Each of these themed events demands the deployment of decks affiliated to specific factions, as players vie with one another for the spoils.
Battles are accompanied by a dramatic score composed by esteemed music producer Gareth Cousins, who has hundreds of credits spanning 30 years for scoring and contributing to music for film and TV – including mixing the BAFTA and Academy Award-winning score for Gravity (2013).
"We've previously described Warhammer Combat Cards as a dream project, because as lifelong fans of Warhammer 40,000 and having played with Citadel Combat Cards as kids, this was a chance to bring a classic game to modern audiences," said Stu Maine, Well Played Games Co-founder. "With the expanded scope of our game, and having developed a close relationship with Games Workshop, it's exciting to create something that can contribute to such an iconic brand and evolve alongside it."
"Working closely with Flaregames over the last 12 months has also been fantastic," added Well Played Games Co-founder Adam Wells. "We've already learned so much and are now extremely excited to be launching the first of what we hope will be many games together."
"We were excited from the minute we heard Well Played Games' vision to bring Citadel Combat Cards to mobile," said Flaregames CEO Todd English. "But we could never have predicted how the game has evolved during development, thanks to the ambition of Well Played Games coupled with the collaboration and trust of Games Workshop. The Warhammer Combat Cards we launch together today is a game that any Warhammer 40,000 fan – or even those merely intrigued by this incredible world – can appreciate."
About Games Workshop®:
Games Workshop® Group PLC (LSE:GAW.L), based in Nottingham, UK, produces the best fantasy miniatures in the world. Games Workshop designs, manufactures, retails, and distributes its range of Warhammer®: Age of Sigmar® and Warhammer® 40,000® games, miniature soldiers, novels and model kits through more than 517 of its own stores (branded Games Workshop® or Warhammer®), the www.games-workshop.com web store and independent retail channels in more than 50 countries worldwide. More information about Games Workshop and its other, related, brands and product ranges (including our publishing division 'Black Library' and our special resin miniatures studio 'Forge World') can be found at www.games-workshop.com.
Combat Cards © Copyright Games Workshop Limited 2019. Combat Cards, the Combat Cards logo, Citadel, the Citadel logo, GW, Games Workshop, Space Marine, 40K, Warhammer, Warhammer 40,000, 40,000, the 'Aquila' Double-headed Eagle logo, and all associated logos, illustrations, images, names, creatures, races, vehicles, locations, weapons, characters, and the distinctive likeness thereof, are either © or TM, and/or © Games Workshop Limited, variably registered around the world, and used under licence. All rights reserved to their respective owners.