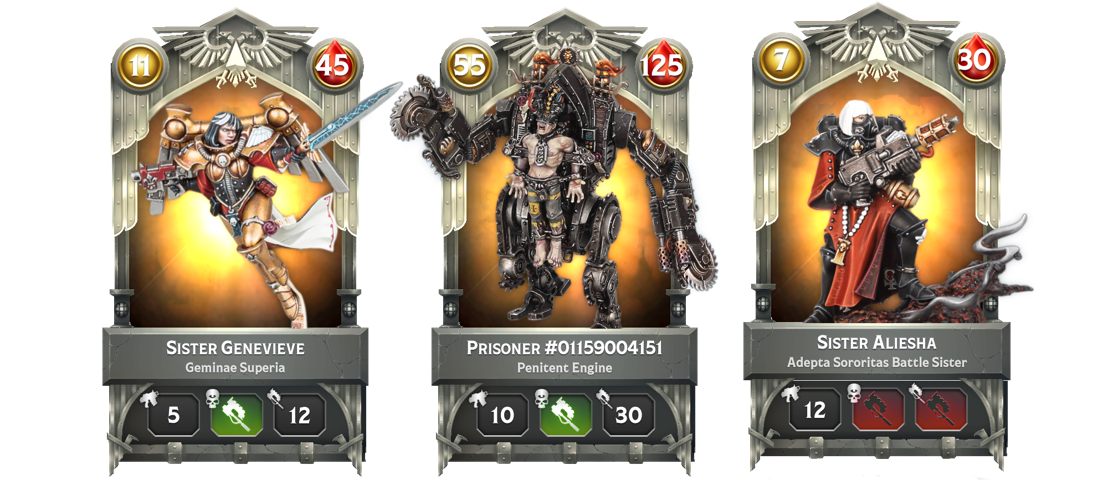 Long-awaited Sisters of Battle debut in Warhammer Combat Cards
New plastic miniatures included in the upcoming Sisters of Battle Army Set now playable in Officially Licensed mobile game
Wednesday, November 27th, 2019 — Games Workshop's new Sisters of Battle miniatures will be the first major update to the beloved Warhammer 40,000 army since the 1990s, and they are now debuting in the officially licenced mobile game Warhammer Combat Cards.
25 plastic miniatures and a collector's edition rulebook will be included within the Adepta Sororitas: Sisters of Battle Army Set, released by Games Workshop on 29th November. A selection of the most iconic miniatures will appear first in Warhammer Combat Cards, with their cards' rules based on those in the new codex, and players can begin to play with them right now.
The cards will be available initially as rewards within the 'Sanctuary 101' campaign, which begins today at 11:00AM (GMT).*
Warhammer Combat Cards is a tactical card battle game developed by Well Played Games, wherein each card features a miniature directly corresponding to a physical product and painted by Games Workshop's world-renowned 'Eavy Metal painters. Every Warhammer 40,000 faction is represented in-game, with an ever-growing roster based on the latest releases.
The Sisters of Battle, also known as the Adepta Sororitas, is one of the most enduringly beloved armies in all of Warhammer 40,000. Formed when the Ecclesiarchy was forbidden from using 'men-at-arms', the all-female Orders of the Sisters of Battle fight heresy and witchcraft with a terrifying religious zeal.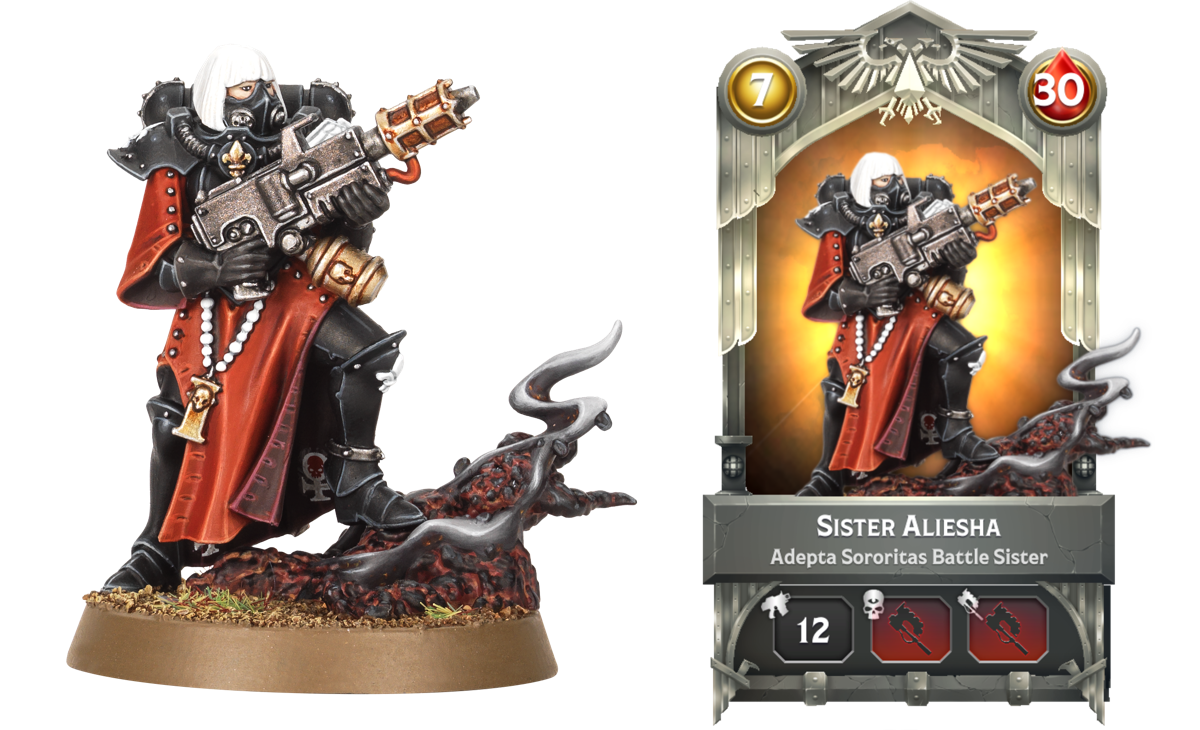 With only a handful of new models since the 1990s, and with Games Workshop first pledging an update for the popular faction nearly two years ago, it's fair to say that Sisters of Battle fans have been kept on tenterhooks. With Warhammer Combat Cards, that wait is over.
* The three Sisters of Battle cards can be unlocked in the 'Sanctuary 101' campaign's 'Blood of Martyrs' mission. Players earn 10 points for every card they destroy in the campaign, and each card in their deck with the 'Sororitas' keyword (viewable on the back of each card) applies a 20% score bonus.
About Warhammer Combat Cards:
Warhammer Combat Cards is the first digital card game to draw on the entire breadth of the Warhammer 40,000 universe and its miniatures. Developed by Well Played Games, published by Flaregames and officially licensed by Games Workshop, Warhammer Combat Cards is based on the classic Warhammer game Citadel Combat Cards (first released in the late 1980s, with later versions coming throughout the 1990s and in 2017).
Featuring every Warhammer 40,000 faction, a roadmap of content coordinated with Games Workshop and regular campaigns based around the biggest developments in 40K lore, Warhammer Combat Cards evolves with its iconic universe.
About Games Workshop:
Games Workshop® Group PLC (LSE:GAW.L), based in Nottingham, UK, produces the best fantasy miniatures in the world. Games Workshop designs, manufactures, retails, and distributes its range of Warhammer®: Age of Sigmar® and Warhammer® 40,000® games, miniature soldiers, novels and model kits through more than 517 of its own stores (branded Games Workshop® or Warhammer®), the www.games-workshop.com web store and independent retail channels in more than 50 countries worldwide. More information about Games Workshop and its other, related, brands and product ranges (including our publishing division 'Black Library' and our special resin miniatures studio 'Forge World') can be found at www.games-workshop.com.
Combat Cards © Copyright Games Workshop Limited 2019. Combat Cards, the Combat Cards logo, Citadel, the Citadel logo, GW, Games Workshop, Space Marine, 40K, Warhammer, Warhammer 40,000, 40,000, the 'Aquila' Double-headed Eagle logo, and all associated logos, illustrations, images, names, creatures, races, vehicles, locations, weapons, characters, and the distinctive likeness thereof, are either © or TM, and/or © Games Workshop Limited, variably registered around the world, and used under licence. All rights reserved to their respective owners.